DIABETIC FOOTWEAR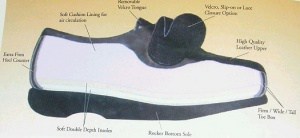 What is a proper Diabetic Footwear ?
A proper diabetic footwear has the following components :
A firm sole which does not bend. This makes the whole foot as a pressure transmission zone and prevents small areas of high pressure during walking.
It has no toe divider to prevent injury to the web spaces.
It has a firm heel counter so that there is no sliding movement of the foot within the shoe.
It has a soft insole to reduce pressure.
It has velcro straps so as to adjust for foot swelling.