DIABETIC FOOT ULCER
An ulceration or ulcer is usually a painless wound at the bottom of the foot or top of the toes, resulting from excessive pressure at that site. Ulcers frequently underlie a pre-existing corn or callus that was allowed to build up too thickly. Diabetic foot ulcers are usually present beneath a callus.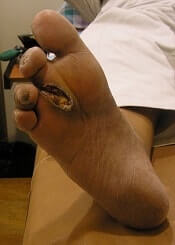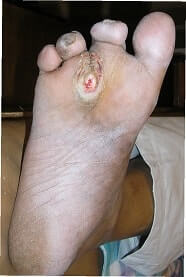 Trauma from heat, cold, shoe pressure, or penetration by a sharp object are also potential causes.
Neuropathy allows the lesions to develop, because the normal warning sense of pain has been lost and they go unrecognized. Continued pressure or walking on the injured skin creates even further damage and the ulcer will worsen. The open sore will frequently become infected and may even penetrate to bone.
Treatment relies on:
early recognition

of the ulceration by a podiatric(foot) surgeon
avoidance of weight bearing activities such as walking –

Stop putting pressure on the wound

avoidance of wearing "closed-in" shoes

early intervention
Besides local wound care, dressings and antibiotics, other measures may be necessary to adequately relieve pressure on the area.
When use of crutches, a wheelchair, or rest is not feasible, plaster casts, braces, healing sandals, or orthoses (special shoe inserts) can be used to protect the foot while it heals.
If circulation is inadequate to allow healing, then it may be necessary to increase blood flow and oxygen delivery to the affected part. This in many cases is today possible due to advanced therapies like HBOT and newer drugs. However in some cases vascular reconstructive surgery may be needed.
Once an ulcer has healed, it is important to continue to see your podiatric surgeon regularly.
Special footwear and inserts will protect your feet and prevent new or recurrent lesions from developing.